Inicio
» SISMAR – USA Imports
SISMAR USA United States Maritime Data System
We apply the experience and knowledge of more than 93 years creating high quality, trustworthy and complete maritime information to offer our clients the best U.S. import maritime data.
The Ports, Sea Lines, Sea Agents and Freight Forwarders in Colombia are current subscribers of SICEX. They access daily to our Colombian Maritime Information, being SICEX their principal tool in the business strategies development and market intelligence.
Below we describe some of the benefits of subscribing to our U.S. Maritime Import Data (U.S. SISMAR), also see some added values we offer thanks to the processes we do on data before uploading it, and get to know some features the On-line platform offers.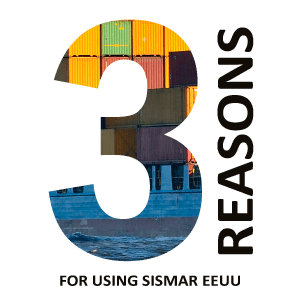 SISMAR ``USA Imports Maritime Data System``:
The SISMAR release is based on the shipment knowledge. It's the only release that allows you to analyze the competition with the total number of mobilized containers by size. Brake bulk, liquid and solid in bulk tons. Carry out a research of the traffic routes, shipping agents participation in the seaports. loading agents, import and export companies. This release is needed for the creation of branding strategies, new business opportunities, customer loyalty, and advertising among others.